Motorcycle Riding Courses in Fullerton, CA
Orange County Motorcycle Training
It's time to ride!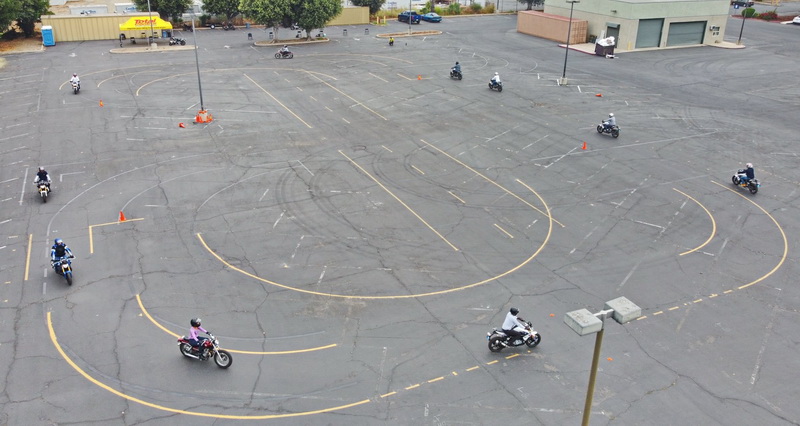 With over 100 years of combined experience, we offer the best motorcycle training in Orange County, California. Most of our instructors have been riding for 20+ years and all take motorcycle safety to heart. We at Orange County Motorcycle Training "live to ride" and strive to share our vast experience with our students. We have classes designed for those who are just learning to ride and we offer more advanced classes for the seasoned riders who understand the value of lifelong learning. Orange County Motorcycle Training places a high value on the importance of safety.
We perform regular maintenance on our fleet and our instructors are all trained in motorcycle safety procedures. What does this mean to you as our guest? You will receive the best training available on a range that has been designed for safety and riding time. The more you ride, the more you learn. The quality of your training experience and your safety is what we are all about. We invite you to join us at Orange County Motorcycle Training for rider training that will stay with you throughout your lifetime.
Learn About Our Courses and Register
"The staff and instructors and awesome! So helpful and knowledgeable. Safety is paramount here. I had a great time and learned a lot."
― Jaime Bueno
"Great overall experience! Ryan and bob were super helpful and professional. Couldn t of asked for a better training program for a first time rider. Thanks guys, y all rock."
― Julie Chapman
"Amazing school! I ve just completed my beginner rider course and it was a blast! The bikes that were used were surprisingly super nice considering this is a beginners course. So going into it I expected some banged up smaller cc bike. But I couldn t be more wrong. They had a mix of modern sport touring type bikes and some cruisers ( which we could choose from ). The teachers themselves were amazing. Shoutout to Bobby for being a outstanding guy too! (On the off chance he reads this just know I was the one that checked out that supermoto after class) Overall the teachers were patient, friendly, very informative and direct with myself and others. Couldn t be happier. I hope to return one day for the intermediate course. I highly recommend this course to anyone else looking to be trained. Whether you re new to riding, underage and in need of a MSF course, or just looking for a fun activity"
― Soviet Walrus
"Great training, nice new bikes, thanks!!"
― Danielle Barlow
"First I would like to give a huge shout out to my instructors BOB & CHRISTINE. They are awesome at first I was hesitant to enroll since I read some of the reviews on here . I ve never rode a motorcycle before coming here but let me tell you this school/course is amazing. Bob & Christine are very knowledgeable and patient with you . They explain everything and walk you through every step of the way so that not only are you safe but understand everything by the time you leave. I passed and now shopping around for my first bike . I highly recommend this for anyone looking to get their M1 endorsement Thanks Christine & Bob !"
― Christopher Martinez
"This motorcycle training course was great, it provided a lot of eye opening tips and tricks to better becoming a safer rider, Ofir was a great instructor, very patient , and definitely knows what s he s doing, I recommend all riders to take these classes as you can learn a lot , you can never know too much! Thanks again "
― Kevin Thaxton
"Great school, learned a lot. The instructors really care to make sure you're ready to ride and have all the fundamentals down. If this is the 1st time you're riding a motorcycle ever, its a very good intro course. But keep in mind that this class moves fast since they need to teach a lot of material....if your main goal is to pass the course at the end so you can skip the DMV test, you might want to consider learning to ride a bit before doing this course. Overall, highly recommend this course. The guys know what they're doing."
― Neel Parekh
Read more reviews on