Motorcycle Riding Courses in Fullerton, CA
Orange County Motorcycle Training
WE ARE OPEN!
We take your health seriously and are taking extra precautions to provide a safe and healthy learning environment during the Covid-19 outbreak, including additional sanitizing of gear and equipment as well as smaller groups and safe social distancing during our classes.
It's time to ride!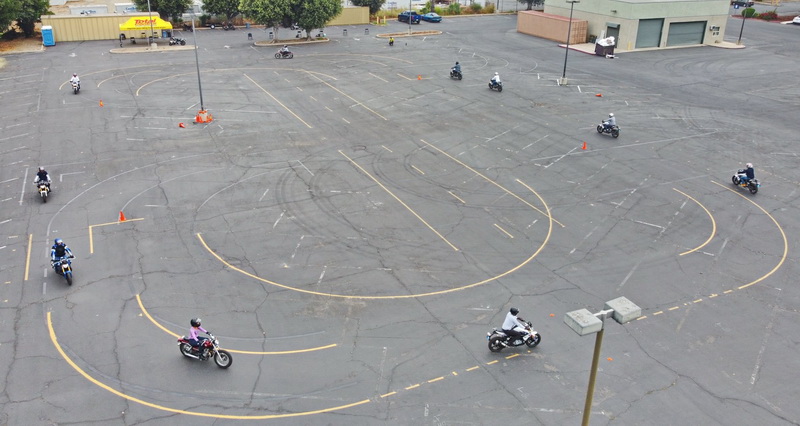 With over 100 years of combined experience, we offer the best motorcycle training in Orange County, California. Most of our instructors have been riding for 20+ years and all take motorcycle safety to heart. We at Orange County Motorcycle Training "live to ride" and strive to share our vast experience with our students. We have classes designed for those who are just learning to ride and we offer more advanced classes for the seasoned riders who understand the value of lifelong learning. Orange County Motorcycle Training places a high value on the importance of safety.
We perform regular maintenance on our fleet and our instructors are all trained in motorcycle safety procedures. What does this mean to you as our guest? You will receive the best training available on a range that has been designed for safety and riding time. The more you ride, the more you learn. The quality of your training experience and your safety is what we are all about. We invite you to join us at Orange County Motorcycle Training for rider training that will stay with you throughout your lifetime.
Learn About Our Courses and Register
"The staff and instructors and awesome! So helpful and knowledgeable. Safety is paramount here. I had a great time and learned a lot."
― Jaime Bueno
"Took the 1 day premiere course. Ofir was a great instructor. Super helpful at coaching everyone on things they need to improve on."
― Jesse De Leon
"Great training, nice new bikes, thanks!!"
― Danielle Barlow
"Great overall experience! Ryan and bob were super helpful and professional. Couldn t of asked for a better training program for a first time rider. Thanks guys, y all rock."
― Julie Chapman
"I took this Motorcycle training course (beginner course) and i went in not knowing anything but came out with a better knowledge about riding. Chris, Bob and Cynthia was very patient and polite and corrected us on mistakes to make sure we understand. Overall, it was a great experience. Definitely will be recommending to friends and family when they want to start riding."
― Sang Lee
"I highly recommend this course for all riders. Teaches great habits and skills needed to safely ride. Instructors Ryan and Bob both did an excellent job of communicating and educating on proper technique. "
― Willie Henson
"This motorcycle training course was great, it provided a lot of eye opening tips and tricks to better becoming a safer rider, Ofir was a great instructor, very patient , and definitely knows what s he s doing, I recommend all riders to take these classes as you can learn a lot , you can never know too much! Thanks again "
― Kevin Thaxton
Read more reviews on