Prerequisites
You need to be able to ride and balance a bicycle proficiently. We do not teach you how to balance on 2 wheels.
Frequently Asked Questions
What do I have to wear?
CMSP requires a long-sleeve shirt or jacket, sturdy long pants without rips or holes, full fingered street-specific motorcycle or leather gloves, tough, over-the-ankle shoes or boots and eye protection (glasses, sunglasses, face shield, etc). We can provide a helmet, but if you bring your own, it must be three-quarter, full face or modular and DOT approved.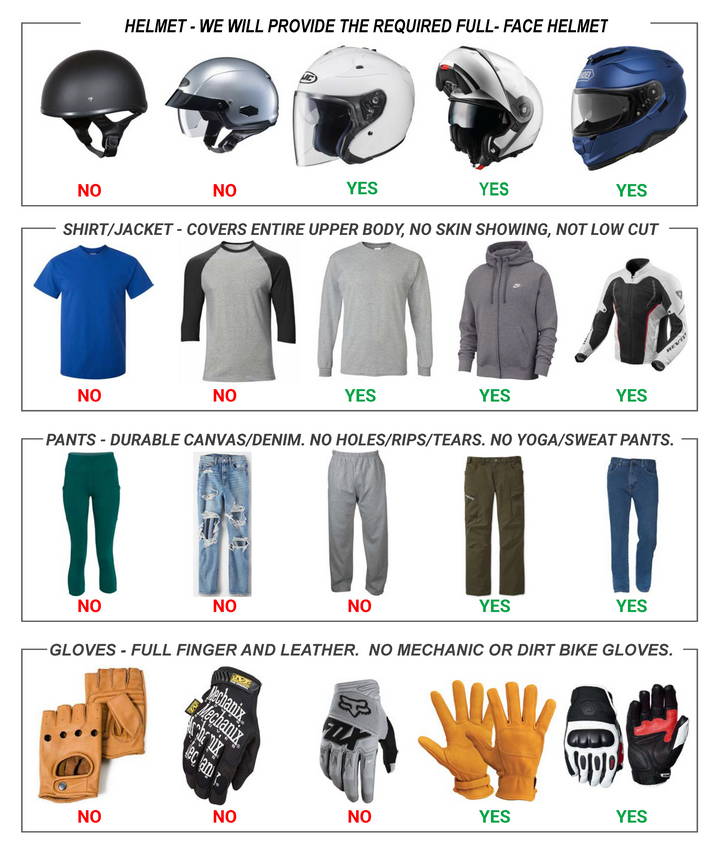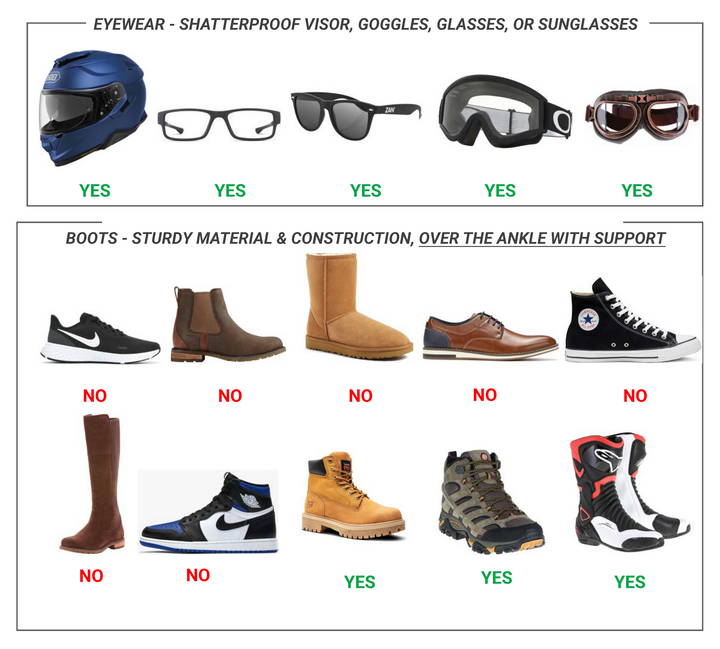 What kind of bikes will we ride? Can I use my own bike?
We offer a wide variety of makes and models that are 125-250cc's. You may use your own motorcycle in the class, but it must meet two of three criteria set by the state program: 525cc or less, 425 lbs or less, and a seat height of 32" or less. Your motorcycle will be inspected for approval and you must also show proper registration and insurance documents.
What if I only want to ride a scooter?
California requires an M1 license for all motorcycles and scooters. You can use your own scooter in class as long as it meets the same criteria as training motorcycles (525cc or less, 425 lbs or less, and a seat height of 32" or less). Your scooter will be inspected for approval and you must also show proper registration and insurance documents.
Do I need to get my motorcycle permit first?
No. To enroll in the class, you only need a valid driver's license, DMV issued ID card or other ID issued by a government agency.
Am I guaranteed to pass?
No. You must first attend all classroom and riding sessions and successfully complete a written test and skill test to pass. We will do our best to help you develop your skills but not all students are successful.
What if I don't pass?
Your Instructors can help you make the decision to return for more practice. Sometimes students just need more time to increase their skill level by repeating a portion of the class. In other cases, people decide that riding is not for them. Either way you will have gained the knowledge of what it takes to become a motorcyclist.
What if I can't show up for a part of my class?
You must complete the entire class to pass it. If you miss a part, it is your responsibility to make up the rest on stand-by. You may be allowed to return if space is available, but you cannot get a second reserved spot. You may also be subject to reschedule fees and restrictions depending on how much notice you give OCMT. The decision to allow students to return on a standby basis is made by the administration.
Course Policies
Safety First
Safety is our number one priority. The Motorcyclist Training Course (MTC) is designed to provide an enjoyable learning experience for all students.
Students are expected to conduct themselves in a professional manner. We have a ZERO tolerance policy for alcohol and other drugs. Students who fail to respond to coaching or intentionally interfere with other students learning may be asked to leave.
Site Policies
All attendees must be pre-registered and pre-paid to secure their place in class. This is your only reserved seat.
Refunds and Rescheduling
Refunds
There are no refunds for this course.
Payment of additional fees
All fees mentioned below must be paid before any status change occurs. Proof of payment via receipt must be presented to an Instructor before class begins.
Rescheduling
You may change class dates one time prior to the first day of your class. The fee for this one-time service is $50.
Attendance and Late Attendees
You must attend ALL class sessions on time and in the order in which they are offered. You cannot continue to the next class session if you do not attend or successfully complete the previous class session. If you are late or fail to show up for any portion of the course, you will be dropped from the course. To return to complete in another course you may return as a standby. The fee for stand by eligibility is $100.
Failure to Complete
Your Instructors are required to ensure the safety of all students. Unsafe conditions cannot be tolerated. Instructors may drop any student who, in their opinion, presents a safety hazard to themselves or to others, or who repeatedly fails to respond to instructions. Refunds will not be given to a student who is dropped or self-drops from a course. There is no guarantee of successful completion. Students dropped from their course may repeat as a stand by. The fee for this service is $100. The decision to return will be discussed between the student and the Instructor. OCMT Administration will make the final decision in these situations.