Motorcycle Riding Courses in Fullerton, CA
Orange County Motorcycle Training
It's time to ride!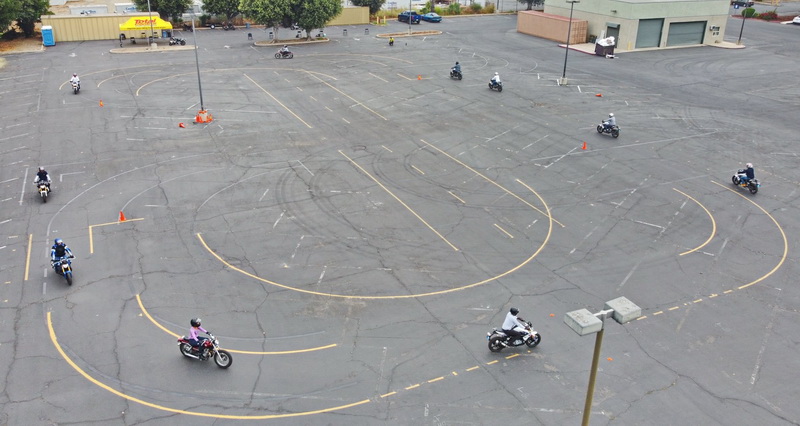 With over 100 years of combined experience, we offer the best motorcycle training in Orange County, California. Most of our instructors have been riding for 20+ years and all take motorcycle safety to heart. We at Orange County Motorcycle Training "live to ride" and strive to share our vast experience with our students. We have classes designed for those who are just learning to ride and we offer more advanced classes for the seasoned riders who understand the value of lifelong learning. Orange County Motorcycle Training places a high value on the importance of safety.
We perform regular maintenance on our fleet and our instructors are all trained in motorcycle safety procedures. What does this mean to you as our guest? You will receive the best training available on a range that has been designed for safety and riding time. The more you ride, the more you learn. The quality of your training experience and your safety is what we are all about. We invite you to join us at Orange County Motorcycle Training for rider training that will stay with you throughout your lifetime.
Learn About Our Courses and Register
"This motorcycle training course was great, it provided a lot of eye opening tips and tricks to better becoming a safer rider, Ofir was a great instructor, very patient , and definitely knows what s he s doing, I recommend all riders to take these classes as you can learn a lot , you can never know too much! Thanks again "
― Kevin Thaxton
"Had a blast at this course. They have really nice bikes, you can choose from g310rs and rebel 300s. The helmets they let you borrow was top notch. Ive never even sat on a bike prior to this course and was able to learn all the basics. A friendly tip, make sure you study the handbook they email you and watch a couple videos on youtube on shifting, cornering, leaning, etc. With all that you would have no problem passing."
― FBI
"Best experience. Signed up for a 1 day course just for the license purpose, but learned a lots of new skills. If you are a new rider, just take a 1 day intermediate course and will definitely improve your riding skills. Instructor was awesome and completely helpful."
― sarthak dhekar
"Great school, learned a lot. The instructors really care to make sure you're ready to ride and have all the fundamentals down. If this is the 1st time you're riding a motorcycle ever, its a very good intro course. But keep in mind that this class moves fast since they need to teach a lot of material....if your main goal is to pass the course at the end so you can skip the DMV test, you might want to consider learning to ride a bit before doing this course. Overall, highly recommend this course. The guys know what they're doing."
― Neel Parekh
"HI EVERYONE, FIRST OF ALL I JUST WANNA THANK GOD FOR ALL OF US RIDING OUT THERE KEEPING IT SAFE. BY TAKING THIS COURSE MADE ME A BETTER RIDER AND SAFER. THERE'S NOTHING BETTER THAN OWNING M1 LICENSE. THANK YOU JIM!!! YOUR THE BEST..."
― Evo Rico Perez
"I highly recommend this course for all riders. Teaches great habits and skills needed to safely ride. Instructors Ryan and Bob both did an excellent job of communicating and educating on proper technique. "
― Willie Henson
"I recently got into riding again after a long time, so I decided to take the intermediate one-day training as I felt a little rusty and thought it would be a good idea to seek professional training. They allowed me to do the whole training on my own bike, but also offered nice 300cc BMWs that looked brand new. The course is well planned, and many important topics are covered, like throttle control, emergency braking, slow and high-speed maneuver, swerving, etc. The class structure is also great as we kept alternating between sitting class and riding. My instructor, Taylor, was very skilled and shared excellent knowledge. He would first demonstrate the exercises on his bike and provide detailed instructions. When it was our time to ride, he would keep advising me on how I could improve or do better. After a few runs, we would then be skill tested and move on to the next subject. At the very end, we took a multiple-choice test of 25 questions, which was relatively easy as we had just covered all topics during the day. After the course, I feel way more confident about riding, and I learned many skills that every rider should know. It's also important to note that although we learn valuable skills and improve our riding during the class, we still need to keep training to take them to the next level. Overall, I think the course is worth it and would recommend it to a friend; I also got my endorsement which is a plus on top of all the learning. For people with no riding experience tho, I would recommend the beginner course instead. I spoke briefly with their instructor, and he seemed like a very nice guy."
― Pedro Carvalho (ZiggyZaggie)
Read more reviews on